The Big Question:
How is Luis doing?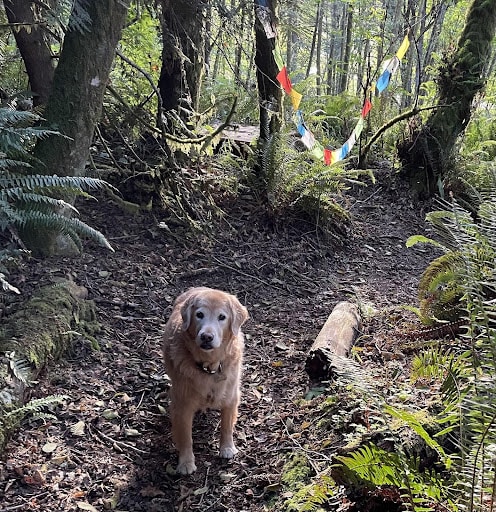 On July 1st, Bansho, Jomon, and their Golden Retriever, Louis, moved to the Monastery. Stepping into a Big Life Change like this, we can draw upon a teaching by Robert Aitken Roshi, who would encourage practitioners to write Gathas, small verses to use at specific everyday moments such as eating, or bathing, or driving.  Most of them include the phrase, "I vow with all beings…"  For example:
"When I sit with my friends in zazen
I vow with all beings
to touch and receive and convey
the mind of rivers and stars."
Our efforts can only ever include all beings — in this way there is no such thing as a Jomon or a Bansho.  We are just participating.  May we flow seamlessly into the life of this place.  
What's important to know is that the Monastery is functioning beautifully, thanks to the steady efforts and presence of the people who have been living here and giving their life energy over the years.  The Roshis are still thankfully actively teaching and guiding. 
The day-to-day, moment-to-moment leadership of the Training Director and Residency Coordinator, Myoyu and Onshin, maintains the rigor of the schedule and the beauty of the forms; wisdom and compassion carrying the tradition forward.  
Through the continuous practice and commitment of the Ordained and Postulants, and through every immeasurable offering of life energy from each person in residence, the swirl and flow of what we call "the Monastery" is alive and well.  
People step into big responsibilities here, and together create optimal conditions to look deeply into this life. It is a stunning embodiment of the mutuality of giver, receiver and gift.  
And Louis?  How is Louis doing?  
Louis is a senior dog with a very slow-moving lymphoma (he has his own oncologist).  He is enjoying a life with less leash time and more snacks of fallen fruit and deer poop.  He may have found his niche on the front sidewalk greeting people who arrive for Sunday program and retreats.  
He's not allowed inside the monastery buildings, but he comes to the informal lunch and dinner times when people can eat outside.  His face is exactly table-level.  Louis says that the Buddha begged for food too, but I suspect the Buddha did it with a lot more dignity.  
Chozen Roshi sees him, and a dog biscuit appears from her pocket.  Like any skillful Dharma teacher, she meets him right where he is, putting him through his paces:  Sit, lie down, twirl, shake hands, whisper, and stay.  In turn, Louis manifests the Dharma of impermanence by simply presenting his ever-whitening muzzle for treats.   
"Impermanence is itself Buddha Nature."
~Dogen
And how are the people settling in?  
The generosity of this community is overwhelming at times.  Together with the skills of the maintenance crew, we are grateful caretakers of the recently acquired farm house, as we learn the inner workings of the monastery, apprenticing to everyone.  
Bansho has been working full-time for ZCO for several years now, so that has been a steady aspect amidst all the changes.  He recently learned to use an excavator thanks to the generosity and skillful teaching of one of our local Sangha members— stay tuned for a new pond feature on the expanded monastery grounds.
For now, Jomon is still working her job as a mental health therapist three days a week, one of those days in-person in Portland.  And also had the privilege of co-leading September sesshin with Chozen Roshi, and soon to co-lead the October sesshin with Hogen Roshi.
And as lay people — suddenly and gradually stepping into this monastic realm, it is clear that none of this is separate from lay life. The gifts and generosity of the vast community who aid and support the monastery are also right here in every moment.  Together with all beings.  
Thank you for your practice.
~Bansho, Jomon, and Louis