Heart of Wisdom Zen Temple
The purpose of Heart of Wisdom is to provide a refuge of stillness and peace in a busy urban environment, to practice and share Buddhist teachings, and to cultivate community, compassion, and wisdom.
Zen Community of Oregon founded Heart of Wisdom Zen Temple in 2011 with the purchase of the beautiful old church it inhabits in Northeast Portland. Many hours of loving volunteer labor have gone into the renovation. (Story here) It is a warm and inviting place, one you are welcome to come and enjoy.
Free meditation instruction is available at every in-person sitting time.
When coming to meditate please wear comfortable, loose clothing that will not be distracting to others. Please do not wear shorts, tank tops, beeping watches, or strong perfume.
Meditation can be done in any comfortable, upright posture. Cushions, benches, and chairs are provided.
If you have questions, email the Temple Manager at how@zendust.org
Heart of Wisdom is open for in-person meditation. Vaccination required. Masks are optional (with some exceptions). For more information read our Covid policy.
For as long as space endures and for as long as living beings remain so then may I too abide to dispel the misery of the world.
Dalai Lama's Vow
Meet with a Zen Teacher

Heart of Wisdom offers many ways to get support for your practice. Meeting with a teacher can be informal over tea or group discussions.
One-on-one private meeting with a teacher, called sanzen, is also available during some sits.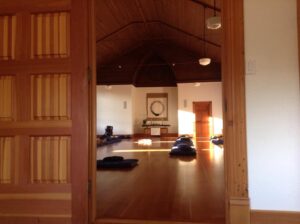 December 2, 2023
Heart of Wisdom Zen Temple and Online
This retreat is a half day of Zen meditation practice to settle into deeper stillness as we move into our final week of Ango and closing ceremonies. It will be an opportunity to come together with community, celebrate what we have cultivated, and reflect on the lessons learned, insights explored, and intentions we'll set moving forward. Join us for a half day of meditation (seated and walking), chanting, and Dharma words. This retreat is held in silence. Please arrive by 7:45 8:00 am Zazen 9:00 am Service 9:30 am Break 9:50 am Zazen 11:20 am Dharma Talk, Zazen, and Closing chant