Gensei's departure
Gensei arrived in the summer of 2019. He immediately became a very useful member of the Great Vow Sangha. Not only as a skilled contractor, woodworker and maintenance person, he also jumped in as an activities coordinator on the weekends, leading kayaking trips and bike rides to the river to swim.

In 2021 when a Tenzo (head cook) was needed, Gensei openly let go of his maintenance position and building projects in order to serve in that very demanding role. 

This year, 2022, he served as the Shuso, or head of the zendo, another role that is highly demanding and very public! 
At the end of this year, Gensei will be departing the Monastery. He ordained one year ago, gave it his very best, and now feels that moving on to life outside the monastery is needed for his continued growth and spiritual training. 

We are thankful for all of the work he has completed around the monastery during his short time here. 
The following is an incomplete list of Gensei's maintenance accomplishments:
spent a year has Tenzo (head cook)

build two new private rooms in the residents area

put in windows in the resident private rooms

re-built kayak storage rack and built two kayak portage carts

maintained our bicycles

helped remodel retreat hut with Soten

built Mountain Seat altar

insulated the central area of the guest area ceiling

installed new lighting in the guest area

put in a door for the bathroom in the office bedroom

built benches for in front of the gym

remodelled the stalls in 4 bathrooms

patched many leaks in the roof

basic maintenance (leaks, painting, repairs)

maintained roof and exterior siding on Lib Hall

rebuilt the zendo shoe racks

new LED lights in the cafeteria

updated the composting palace behind the kitchen

built and installed options for hang drying clothes

Installed a charging station for electric cars! (almost done!)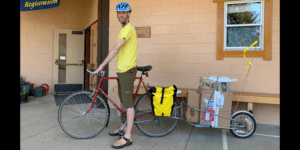 We are sorry to see him leave and wish him well as he does so. Gensei leaves with our blessings. May he be well and may his life be bright!