A Glance at the Monastery Public Program
Nestled in the hills above cow pastures, tree farms, and Columbia River dike lands, Great Vow Zen Monastery finds its place. The property, once an elementary school, has been reborn as a residential practice container. The library is now the meditation hall; the classrooms have been transformed into dormitories for residents and guests; and the large commercial kitchen is perfect for hosting large retreats and events.
People are often surprised to find a Zen monastery way out in rural Oregon. It takes a small leap of courage to drive out here and show up at a new place. The fact that Great Vow is not really close to anything in particular, can add to our trepidation.
The Sunday Public Program was created with the hope of easing this trepidation and also with the intention of building community and making Zen forms relatable and accessible.


Sunday Program begins at 10 am almost every Sunday of the year. Our first time up the driveway as we turn off the winding country road towards the yet unseen elementary school turned Zen Monastery might be intimidating. Is this it? We might, in the moments before shutting off the car, doubt our decision to take the next step. "I can still drive away!" might be on the minds of the yet uninitiated guest. 
The first visit to a new practice space is a time to just take it all in. It's a time to watch, follow along as you are comfortable, and get a feel for the place. At 10 AM, chanting service begins. For about 25 minutes this dance unfolds: chanting, bowing, incense and bells. The Zen forms spring to life and draw us into the magic.
After chanting service, we drop into a period of meditation. For those new to the monastery, meditation instruction is offered, and for the next hour, a rotation of seated and walking meditation takes place. 
Each person in the mediation hall is an offering to the rest of the assembly. We hold each other accountable. Each of us sitting a little longer than we might if we were alone at home.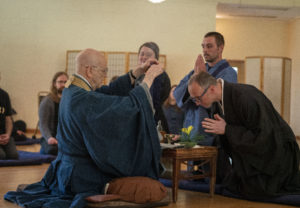 The usual Sunday Schedule always begins with chanting service, followed by 
meditation and culminating in either a Dharma talk at 11:30 or a ceremony. We often, 
for example, do precepts ceremonies on Sundays.
During the morning practice session, a small crew of resident practitioners takes care to prepare a large lunch to be served to the whole assembly. After the Dharma talk ends, we put away our sitting supplies and head to the dining hall where we have an opportunity to socialize. 

 
The dining space is large, with outdoor and indoor seating, and we can choose what level of socializing we'd like to engage with. Sometimes the larger, more boisterous table is enticing, or maybe a quiet spot in the sun. 
Sunday Program ends at about 1:00 pm. Please come back next week!