Like Great Vow monastery residents, Clatskanie fire chief Steve Sharek hates to see anything go to waste. So, on a balmy April Monday, the Clatskanie fire department burned the dilapidated farmhouse on the recently purchased Sirnio property and the volunteers worked to control the burn.
Nearly all of the residents turned out for the show. Most enthusiastic were Chozen and Hogen Bays. In addition, many sangha members appeared, children and dogs in tow. Of course, I wanted to bring marshmallows and s'mores makings, but somehow this suggestion was lost in all of the excitement. Fortunately, Randa Rink rolled in from Astoria with donuts to remedy this oversight and sweeten the spectacle.
The blaze was ignited by one firefighter with a large propane tank and a flamethrower. When I asked if the guy who gets to set the fire pulled the long straw, the affable Gabe, firefighter and EMT, replied that the one who set the fire pulled rank.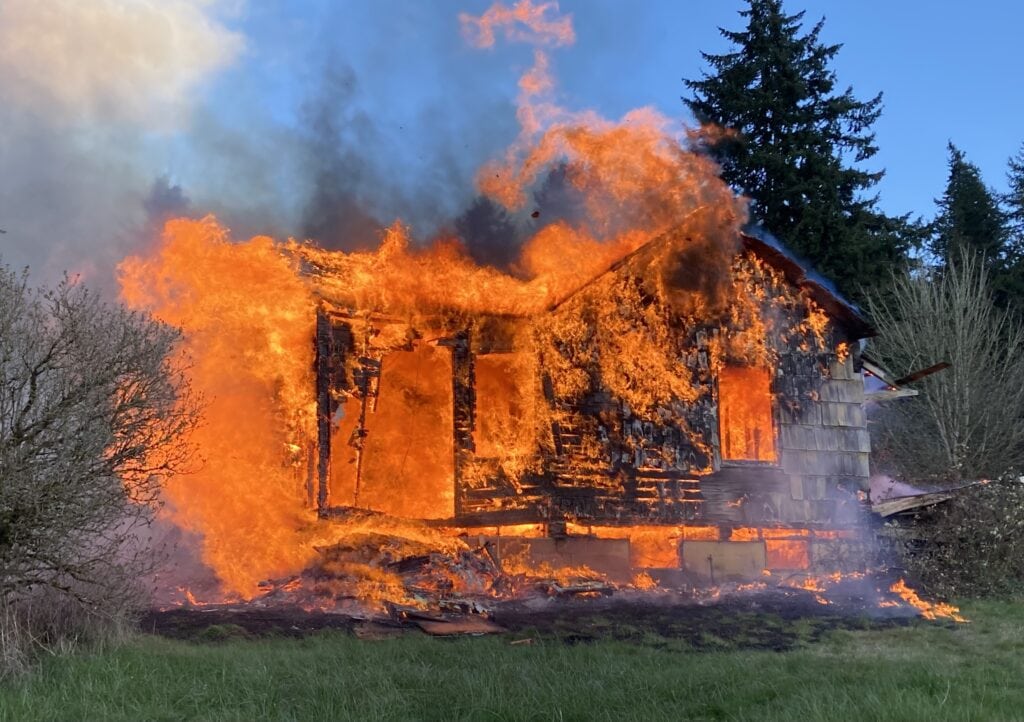 While the evening grew increasingly cool as the sun set, we all stayed warm, basking in the raging conflagration, marveling at its beauty and power, digesting our donuts. The firefighters wrangled hoses, trucked water in a tender, and negotiated the flames for hours!
Since the evening fire burned longer than any of the hungry attendees imagined it would, the crowds thinned, heading back to kitchens for dinner beyond donuts. Everyone waved and shouted thanks to the crew as they departed. 
Equally hungry and much more tired from hours of starting, managing, and dousing the house, the valiant volunteers were treated to pizza as well as our grateful thanks for safely burning down the house.