Sunday Morning Program at Heart of Wisdom
by Jomon Martin
When you approach Heart of Wisdom Zen Temple in the residential Woodlawn neighborhood in Northeast Portland, be sure to absorb the attention and love that goes into the building and the gardens. The garden has a good many sitting areas — even some meditation platforms come out when the weather warms.  
But don't stop there. The bright red doors of the Temple hearken back to our Chinese temple roots. What a brave thing you've done, to just show up. You are welcome. Please walk in. There will probably be someone in the foyer to receive you. This is an important service position at Heart of Wisdom. There's always someone happy to show you around, or to give you space to nose around on your own. If you've never been to a Zen Temple before, of course you're not at all expected to know what to do.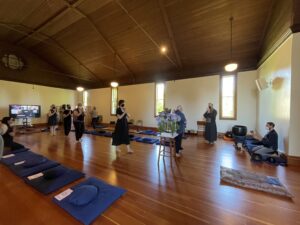 We are just glad you are here. You can lock up your phone (what a relief) and valuables, and give your full attention to the experience. When you go in, what does it feel like to be in there? Can you sense the years of spiritual practice in the building?
Beginning in 1859 with the Methodist Episcopalians, Heart of Wisdom Zen Temple has had many spiritual incarnations over the years. The Eastern Orthodox cross on the steeple continues to honor the Ukrainian Church that used to call the building home. The Church of the Living God, a historically African American congregation, served the people in the neighborhood for many years. Experiencing appreciation, we practice gratitude for their care and maintenance of this place we have inherited. 
The first floor is where we leave our shoes, secure our belongings, and is where you can find a Zenworks store if you want to leave with a meditation cushion or bench. Going upstairs to the Zendo (meditation hall) is an experience itself. If you  need assistance, there is a lift chair. The beauty of the Zendo can be just breathtaking when you first see it. The dark wood supporting the immense and tall ceiling offers a sense of spaciousness. The beautiful original fir floors glow with aliveness, and sing during walking meditation. The cushions on the floor have all been made by members of the community.
Please allow yourself to sit in a chair if you're not accustomed to sitting on the floor (there's no extra mindfulness on the floor). Hundreds of hands have built and maintained the space that supports and surrounds you here. Definitely take advantage of the introduction to meditation that is offered. Yes, even if you've been meditating a while, and especially if you have been meditating for shorter durations at home or using apps — there's nothing better than getting real-life, personal meditation instruction, so that your sitting posture is actually sustainable. This is also an opportunity to ask any questions about the Zen forms; how — and why— we move in the space the way we do. But when in doubt, you can always put your hands palm-to-palm in "gassho" and bow.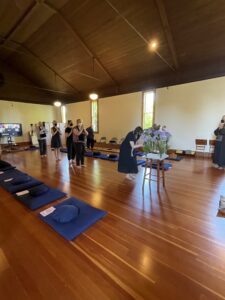 Sunday morning program starts at 9:35am with a brief chanting service. Follow along as best you can, and just experience it as a physical- awareness practice. You can participate in, or just observe the full bows. Then there will be some combination of sitting meditation (zazen) and formal walking practice (kinhin). This is a rare opportunity to sit quietly together with others — everyone supporting each other in this endeavor. After the sitting and walking, there will usually be a Dharma talk by one of the teachers or a senior student. The time in the Zendo ends with a chant, and then we head downstairs to hear upcoming events and announcements.
Congratulations: You have meditated in community. You have dipped your little toe into a long tradition of deep and profound teaching and practice. It may take a few times to truly get a sense of what is happening here. Or several years! Please do not underestimate the power of just showing up. Your presence matters, and is a gift to everyone here. Thank you for coming to Heart of Wisdom Zen Temple, and thank you for practicing.